Die ruhigen Wochen nach dem Jahreswechsel scheinen vorbei zu sein: In der 4. Kalenderwoche 2023 erwarten uns einschließlich Produktvarianten mehr als 110 Neuerscheinungen auf Blu-ray, darunter zahlreiche Film-Neuheiten wie "Rise of the Footsoldier - The Marbella Job" (Großbritannien 2019; OT:"Rise of the Footsoldier: Marbella") und "Hot Seat" (USA 2022) mit Kevin Dillon, Mel Gibson und Shannen Doherty in einfachen Keep Cases. Studiocanal veröffentlicht im Vertrieb von Plaion Pictures den mit Isabelle Fuhrman in der Hauptrolle besetzten Horrorfilm "Orphan - First Kill" (USA, Kanada 2022) auf Blu-ray als Einzelveröffentlichung und im Doppelset mit "Orphan - Das Waisenkind" (USA, Frankreich, Kanada, Deutschland 2009) sowie auf Ultra HD Blu-ray inklusive HDR10 im 3-Disc-Amaray-Set mit der HD-Fassung und einer Bonus-Blu-ray mit dem ersten Spielfilm. Im Vertrieb von Plaion kommen neben der beim South by Southwest Festival ausgezeichneten Komödie "I Love My Dad - Ein Papa zum Knutschen" (USA 2022) mit Patton Oswalt auf Blu-ray und dem visuell eindrucksvollen Science-Fiction-Märchen "Vesper Chronicles" (Frankreich, Belgien, Litauen 2022, OT: "Vesper") in High Defintion und mit Dolby Vision sowie deutschem Dolby-Atmos-Ton im 4K-Steelbook noch die Spielfilm-Neuheiten "Demon Lake" (USA 2021, OT: "Blood Conscious"), "Hitman Confessions" (Kanada 2022, OT: "Confessions"), "Rubikon" (Österreich 2021) von Leni Lauritsch und "White Elephant - Der Mafia-Kodex" (USA 2022) mit Michael Rooker, Bruce Willis, John Malkovich und Olga Kurylenko auf Blu-ray in Keep Cases heraus.
Von Universal Pictures Home Entertainment erscheint die "47 Ronin"-Fortsetzung "Blade of the 47 Ronin" (USA 2022) mit deutscher DTS-5.1-Tonspur auf Blu-ray als Standard-Edition. Im Vertrieb von UPHE steht uns außerdem der Warner-Titel "Die Känguru-Verschwörung" (Deutschland 2022) von Marc-Uwe Kling in High Definition zur Verfügung. Splendid Film wird mit "Dead Zone Z" (USA 2022; OT: "Dead Zone") mit Michael Jai White, dem mit Tony Todd, Billy Zane, Adrienne Barbeau und Bruce Dern besetzten Horrorfilm "Hellblazers" (USA 2022) und Christian Camargos Historiendrama "The Last Manhunt" (USA 2022) mit "Aquaman"-Star Jason Momoa ebenfalls mehrere aktuelle Filme auf Blu-ray zum Kauf anbieten. Und von Lighthouse Home Entertainment kommen das Fantasy-Abenteuer "Dragon Knight" (Großbritannien 2022), "Just One Night - Partnertausch mit Folgen" (Spanien 2022; OT: "El juego de las llaves"), "Mandrake - Wurzel des Bösen" (Großbritannien 2022) und "Shot in the Dark - Den Tod vor Augen" (USA 2021) auf den Markt.
Da ist es bei den Serien-Highlights vergleichsweise überschaubar. Warner Home Video hat zwei Titel auf Blu-ray mit deutschem Dolby-Digital-5.1-Ton und mehreren Extras in Keep Cases im Vertrieb von Universal Pictures im Programm. Zum einen "Supergirl: Die komplette sechste Staffel" (USA, Kanada 2021-2022), zum anderen hierzulande exklusiv bei Amazon.de "Raised by Wolves - Die komplette zweite Staffel" (USA, Südafrika 2022). Außerdem veröffentlicht Leonine die Mini-Serie "Bonn - Alte Freunde, Neue Feinde" (Deutschland 2022) auf Blu-ray mit deutscher Tonspur in DTS-HD Master Audio 5.1, Hörfilmfassung, Kostüm-Featurette und Making-of in einer Amaray-Verpackung. Deutlich mehr Auswahl versprechen unsere Katalogtitel-Highlights. Plaion Pictures beispielsweise bringt Mario Bavas Science-Fiction-Horrorabenteuer "Planet der Vampire" (Italien, Spanien 1965; OT: "Terrore nello spazio") erstmals auf UHD Blu-ray mit umfangreichem Bonusmaterial als DigiPak-Edition inklusive eines 24-seitigen Booklets von Leonhard Elias Lemke und zwei Blu-ray Discs im Schuber heraus.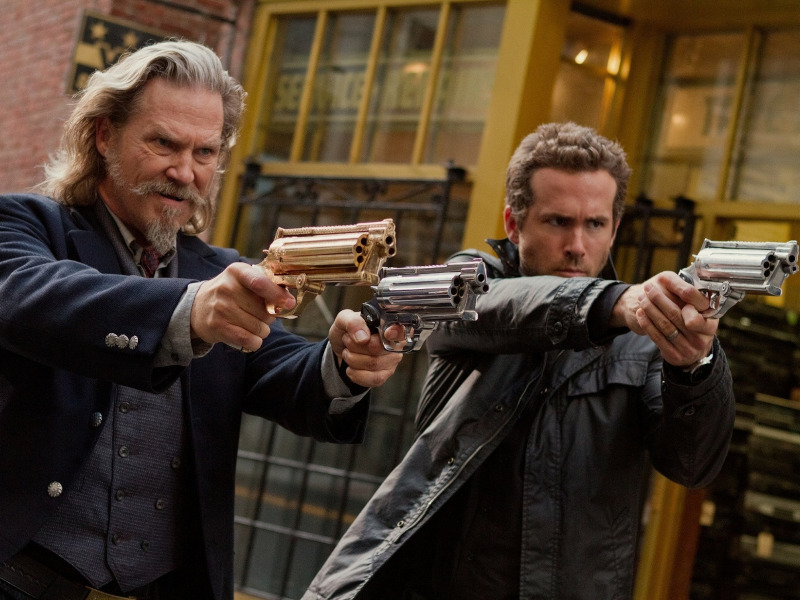 Ein Spielfilm von Universal Pictures feiert ebenfalls seine 4K-Premiere: Robert Schwentkes mit Jeff Bridges und Ryan Reynolds in den tragenden Rollen besetzte Fantasy-Actionkomödie "R.I.P.D. - Rest In Peace Department" (USA 2013) erscheint mit deutschem DTS:X-Sound auf Ultra HD Blu-ray als limitierte Steelbook-Edition inklusive Blu-ray mit mehreren Zusatzinhalten. Erstmals in Deutschland auf Blu-ray kommen "Alraune" (Deutschland 1952) mit Hildegard Knef und "Black Cat" (Hongkong, Kanada 1991, OT: "Hak mau") mit Jade Leung in limitierten Mediabooks sowie "Ein Mann geht über Leichen" (USA, Italien 1973; OT: "The Stone Killer") mit Charles Bronson, "Heißer Süden" (USA 1956, OT: "The King And Four Queens") mit Clark Gable, "Ich will deinen Kopf Fremder" (Italien 1971; OT: "Giù la testa... hombre") mit Klaus Kinski, "Kuss vor dem Tode" (USA 1956, OT: "A Kiss Before Dying") und "Zwei Särge auf Bestellung" (Italien 1967, OT: "A Ciascune Il Suo") in Keep Cases auf den Markt.
Neben der Veröffentlichung des Zeichentrickklassikers "Walhalla" (Dänemark 1986; OT: "Valhalla") im HD-Mediabook können wir uns außerdem auf die Amaray-Neuauflagen von "Aus der Mitte entspringt ein Fluss" (USA 1992; OT: "A River Runs Through It") mit Brad Pitt, "Harley Davidson and the Marlboro Man" (USA 1991), "Pancho Villa reitet" (USA 1968; OT: "Villa Rides") und Billy Wilders "Zeugin der Anklage" (USA 1957; OT: "Witness For the Prosecution") mit Marlene Dietrich, Charles Laughton und Tyrone Power von Capelight Pictures freuen. Und im Vertrieb von Leonine veröffentlicht Mediacs zahlreiche Katalogtitel, z. B. "Operation Osaka" (USA 1983; OT: "Girls of the White Orchid") mit Jennifer Jason Leigh und "Uninvited" (USA 1988) auf Ultra HD Blu-ray in limitierten Mediabooks. Alle Mediacs-Releases sehen Sie weiter unten in der Auflistung der kommenden Katalogtitel-Highlights. Diese und alle weiteren Neuerscheinungen der 4. Kalenderwoche finden Sie zudem in unserem bluray-disc.de-Kalender. (sw)

Blu-ray Highlights der 4. KW - Kategorie: Film-Neuheiten:

Blu-ray Highlights der 4. KW - Kategorie: Serien-Veröffentlichungen:

Blu-ray Highlights der 4. KW - Kategorie: Katalogtitel:
zum Forum